The
Galaxy
continues to explore the career of Miss
Cyndi Lauper
, to celebrate her forthcoming concert in Iceland on June 12th.
After her 1989 album and the tour that followed, it would be a while until Cyndi released a new album. Instead she chose to do various other projects.
On July 21, 1990, Lauper joined many other guests for
Roger Waters'
massive performance of "
The Wall"
in Berlin. The concert was watched live by over five million people worldwide.
Also in 1990 she took part in a
John Lennon
tribute concert in Liverpool, performing the
Beatles
song
"Hey Bulldog"
and the Lennon song
"Working Class Hero".
A year before she had appeared on UK TV, covering a
Led Zeppelin
song. Was Miss Lauper about to become a complete rock chick?
Thankfully, no. But before there was more music, her next project was the 1991 movie
Off And Running
.
And the film even included a Cyndi song, which came with a music video (although it wasnt released as a single).
"Unabbreviated Love"
had been previously released as the B-side to her 1989 single
"My First Night
Without You".
The film didnt do very well. But for Cyndi, the film had one massive plus: she fell in love with her co-star,
David Thornton
. And on November 24, 1991 they were married at the Friends Meeting House in New York.
Little Richard
(of all people) performed the ceremony.
Patti LaBelle
sang
"A Whiter Shade Of
Pale",
and Lauper's grandmother served as the matron of honor. Cyndi had reportedly threatened to dress like a lighted christmas tree (but why not) but settled on a traditional white wedding dress.
In 1992, Lauper contributed two tracks to the European musical
Tycoon
, an English version of the hit French-Canadian stage show
Starmania
. She scored another Top 20 hit in Europe ( #2 in France, earning a 2x platinum certification) with the beautiful
"The World Is Stone"
(which was co-written by
Tim Rice
).
Also in 1992, Cyndi recorded
"Santa Claus is Coming to Town",
a duet with
Frank Sinatra
which was released on the album
Very Special Christmas II
. It has become a holiday classic all over the world. Here she performs it some years later with
Barry Manilow
:
And then finally: a brand new album!
In June 1993 Cyndi released her fourth album,
Hat Full Of Stars.
It tackled such topics as homophobia, racism, abortion, incest and spousal abuse.
The album (co-produced by dance-music artist
Junior
Vasquez
)
deviated from her pop-rock sound of previous projects and delved heavily into alternative music. The album had some limited success overseas (it managed to achieve Gold sales in France and Platinum sales in Japan, where her albums always sell exceptionally well.) However it was considered a commercial disappointment in the US. Despite glowing critical reviews, it received little or no promotion, and it subsequently stalled at #112 on the
Billboard
200 albums chart. At this point it had become very clear that Cyndi the popstar was gone and what remained was an artist who wanted to to her own thing, not to be concerned with the pop charts.
Hat Full Of Stars
featured some of the best singles of her career. The first one released was the beautiful
"Who Let In The Rain".
It received almost no airplay in the US, but became a modest hit in other parts of the world. The video features a chalk drawing of
David Wolf
(her ex boyfriend and manager) on the sidewalk.
The next single was the stunning
"Sally's Pigeons".
The song was inspired by the story of Cyndi's childhood friend, who in her teens got pregnant, had a back alley abortion and died as a result. Cyndi is played in the video by
Julia Stiles
, who was an unknown child actress at the time.
The third single was the excellent, upbeat
"That's What I Think".
It became another modest worldwide hit and did well on the US club charts.
The last single from the album was a Japan release of the beautiful title track, which she had written to David Wolf. There was no video made.
In 1993, Lauper also returned to acting, playing
Michael J. Fox's
ditzy secretary in
Life With Mikey
(which also starred
Nathan Lane
).
By 1994, 11 years after she released her debut album, it was time for a greatest hits release (the only previous compilation had been a 1989 remix EP released in Japan (above).
Twelve Deadly Cyns... And Then Some
was released worldwide in 1994 (except in the U.S., where it was held back until the summer of 1995). The album included two re-recorded tracks,
"I'm Gonna be Strong",
(first recorded with her band
Blue Angel
), and a reworking of
"Girls Just Want To Have Fun".
The Japanese edition of the CD includes the single
"Hole In My Heart (All The Way To China)"
as the final track, while the US release does not include
"The World Is Stone"
and
"Who Let In The Rain".
Twelve Deadly Cyns
sold over 5 million copies worldwide and Lauper began a world tour to promote the album. It was especially popular in the UK, where Cyndi had quite a comeback. The album went to #2 on the album chart and spent 11 weeks inside the Top 10. A (very welcomed) VHS (and later a DVD) was released to accompany the release.
The first single was the reworked
("Hey Now) Girls Just Want To Have Fun".
It was an international hit, peaking at number #4 in the UK. It was featured in the fabulous film
To Wong Foo, Thanks For Everything! Julie
Newmar
.
The next single was
"I'm Gonna Be Strong",
which became a UK top 40 song.
The last single was
"Come On Home",
another UK top 40 hit and a club hit in the States. There was no video made.
In 1995 Cyndi won an
Emmy Award
for her guest role on the sitcom
Mad About You
. And in 1996 it was time to release another new album.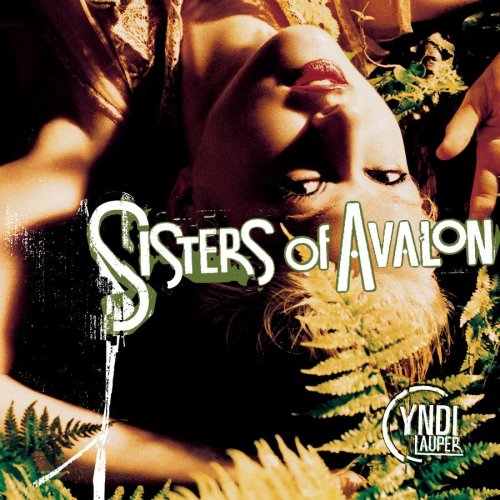 Her fifth album,
Sisters Of Avalon
was first released in Japan in 1996 and then worldwide in 1997. Despite great reviews (I think it is one of her very best, and most underrated albums), it did not have much success. It was written and recorded in Tennessee and Connecticut and finished in an old mansion in Tuxedo Park, N.Y., where she lived and worked at that time.
The album was quickly embraced by the gay community though - partly because of some of the songs subject matters
("Ballad Of Cleo & Joe"
addressed the complications of a drag queen's double life,
"Brimstone and Fire"
painted a portrait of a lesbian relationship and
"Say a Prayer"
was written for a friend of hers who had died from AIDS).
Cyndi had previously had very strong ties to the gay comminity and by 1994 she was performing at
Gay
Pride
events around the world. By the release of
Sisters Of Avalon
, Cyndi's sister
Ellen
had come out
as a lesbian and Lauper considered her to be a role model.
Ellen was doing a lot of charity work for the gay community, and was working out of a clinic, helping people who were suffering from AIDS.
The first single from
Sisters Of Avalon
was
"You Don't Know",
released in 1996. It became a top 30 hit in the UK and a US club hit. This single marked the start of Cyndi directing her own music videos.
The next single was a Japan-only release of the title track.
Cyndi (pregnant with her first child) spent the summer touring with
Tina Turner
on what would become one of the highest grossing tours of the year.
The third single was the fabulous dance track
"Ballad Of Cleo & Joe",
a song about the double life of a drag queen - 'Joe' by day, 'Cleo' by night.
The album featured several great tracks that were not released as singles - in particular, this beautiful favourite of mine:
Cyndi's son,
Declyn Wallace Thornton Lauper
was born on November 17th 1997.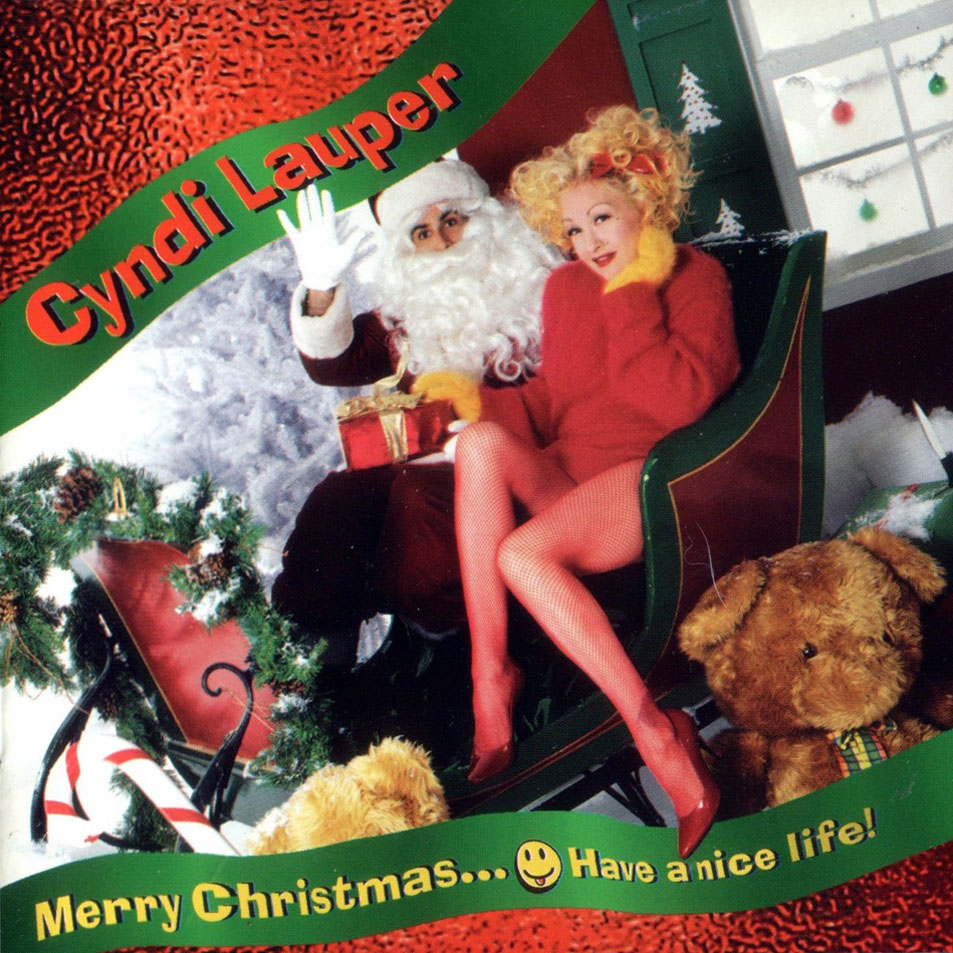 Cyndi released her last album for Epic in late 1998.
Merry Christmas...Have A Nice Life
, as the title implies, was a Christmas collection of original material and standards. It was recorded at Lauper's home in Connecticut. Her son Declyn was a big inspiration on
the album (
"December Child"
was written for him). It is one of the best (and most fun) christmas albums I have ever heard, and it is played a lot every year at my house during the holiday season. One does have to do the
"Christmas Conga"
on regular basis, am I right?
The only single released from the album was the Japan release
"Early Christmas Morning".
On January 17, 1999, Cyndi appeared on
The Simpsons
as herself singing the National Anthem. The same year she went on tour with
Cher
and appered with her on
VH1 Divas
.
She also apperead in a couple of independant movies (most notably
"The Oppurtunist"
with
Christopher
Walken
).
In 1999 Cyndi released a cover of
The Trammps's
"Disco Inferno".
It became a big dance hit in the States and received a
Grammy
nomination for Best Dance Recording. The song was featured on the soundtrack for the film
A Night At The Roxbury
. A year later, she did another song exclusively for a film - this time around it was
"I Want A Mom That Will Last Forever",
done for
Rugrats In Paris
.
TO BE CONTINUED
Part 4 is coming soon. In the meantime, if you missed them, here are the first two parts:
Part 1
Part 2