It's yet another birthday. Time has started to fly way too fast for my tastes and I most certainly do not feel like I have reached the XX number (no, it's not 40 - YET!).
Nevermind, I thought I would pick my very first ever favourite song (that I can remember) as the
Song Of The Day
.
Ex-
Kajagoogoo
singer
Limahl
released the title track from the film
The Neverending Story
in 1984. The song became a big hit, charting at #1 in Japan, Sweden and Norway, #2 in Germany and Austria, #4 in the UK, #7 in France and #17 in the US. The song was written and produced by none other then
Giorgio Moroder
!
It became my favourite song as soon as I heard it and I would call the local radio station every day to request it. As soon as the film came out on VHS I demanded to see it and when I discovered that the film was based on a book I tracked down a copy and read it in one evening. It became my favourite book of all time. As a reference to the film and its title, the song has no distinctive beginning, nor an end (it just fades in and out, which I always liked). The 12" version is excellent as well and I still have the record to prove it :)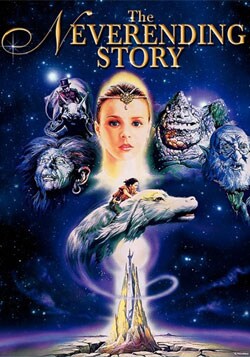 So, here is the song that a 6 year old diva in the making was listening to again and again, all those years ago: